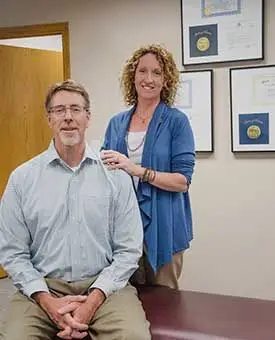 Powell Chiropractic in Cedar Rapids, Iowa is a Functional Neurology and Family Chiropractic Care Clinic.
Dr. Mike Powell is a nationally recognized Chiropractic Neurologist (there are only about 350 in the world). He sees a diverse patient population. Many of his patients are sent from other doctors and travel from out of the area for neurological care. His patients range from children with developmental and learning problems to adults who suffer from migraines, vertigo, tremors or the effects of brain injury. Dr Powell is a Bredesen Protocol Trained Doctor and is on a quest to help us all build healthy resilient brains.
Dr. Kourtne Shanahan is especially talented in family care and on a typical day in our office will see pregnant moms, babies and kids, parents, athletes, adults and grandparents. Dr. Shanahan has advanced training in Clinical Nutrition and advanced functional testing, she enjoys helping with lifestyle modification to make healthy eating habits be your ticket to a successful and sustainable lifetime diet.
Most people tell us that, the first time they walked in our doors, it felt like home. From the doctors to the staff, you will know that everyone at Powell Chiropractic is on your team, with the number one goal of improving your health.