Welcome to the Powell Chiropractic Website!
You are reading this today because you or someone you care about is in pain or has a disorder that may be treated with chiropractic care. Dr. Mike Powell and Dr. Kourtne Shanahan can help. Our doctors here at Powell Chiropractic Clinic treat many conditions such as: back and neck pain, extremity pain, headaches and migraines, sport injuries, motor vehicle accident injures, sports physicals and wellness care. BUT our doctors are unique because they both specialize in specific conditions as well!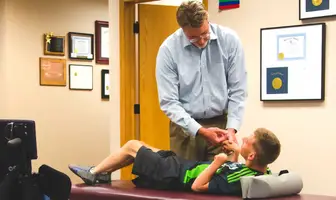 Dr. Mike Powell is a Chiropractic Neurologist who treats many patient different neurological conditions such as : Reversal of cognitive decline (your next years), traumatic and non traumatic brain injury, conconussions, childhood disorders, stroke, vertigo, movement disorders, ALS, tourettes, seizure disorders, ADD and ADHD, learning disorders, spinal cord injuries, neuropathies, PTSD, scoliosis, MS, dementia, visual disturbances, chronic pain and many more!
Dr. Kourtne Shanahan is a Chiropractor who specializes in: Family care, Children, pregnant women (both during pregnancy and postpartum), breech babies, ear infections, colic, kinesiology taping, soft tissue work and much more. Dr. Shanahan has also completed training in advanced nutrition and nutritional counseling!
Our mission here at Powell Chiropractic is to exist to make the world healthier. It is our goal to provide as many people as possible with the safest, most effective health care available without the use of drugs or surgery. We also look to educate our patients and the public about chiropractic care, their health and looking after the health of their families.